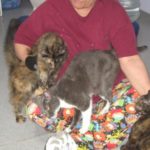 Website C.A.R.E. aka: Cat/Canine Assistance, Referral & Ed
Schools, churches and social organizations are totally great for putting together collection drives for:
blankets and towels,
pet food (especially canned cat food),
pet treats,
pet toys,
money donations
collecting emails and mailing addresses for animal lovers who would like to receive our quarterly newsletters and "fur-folk of the month" emails
Collect food, blankets, toys
Tabling at local stores to develop new supporters and prospective adopters
We need cage size cat litter pans, new heating pads, hot water bottles, Gerber's Chicken baby food
If you're under 18 (or not), you can make C.A.R.E. a special project at school or a group – have a drive to collect food, toys, blankets; have a yard sale to benefit C.A.R.E.; organize a rummage sale at your church or group and hand out fliers about C.A.R.E. We can send you a Word document suitable for printing.
Have a food drive at your school, church, social group, whatever – canned dog and cat food is what we are desperately in need of!
Contact Us!
If you are interested in helping, please respond by email to volunteer@care4pets.org if you have any questions or to let us know how you would like to help.
DON'T FORGET….EVEN IF THE SANCTUARY IS A FUR PIECE OR YOUR AGE ISN'T QUITE HIGH ENOUGH….JOIN US VIRTUALLY VIA THE INTERNET TO HELP SUPPORT THE CAUSE!