Anywhere
This position has been filled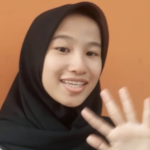 Website Bye Bye Anxiety
Peer-to-peer English speaking program for Indonesian learners
Need volunteer hours or experience? Interested in connecting with the global community? Can't find the time to fit in volunteer hours? Try Bye Bye Anxiety! Access to conversation practice is one of the key factors in reaching fluency in any language. With English as a global language used in news, media, and business, many Indonesians strive to reach English proficiency. Bye Bye Anxiety hopes to make that journey a little easier with the help of fluent and native-speaking volunteers that can help our learners reach their full potential!
Why volunteer with us?
Make an impact on the global community without leaving your house.
Create your own flexible schedule with the ability to reschedule your hours easily.
Connect with peers from different communities and gain a different perspective on the world.
Get valuable one-on-one tutoring experience and volunteer hours with possible leadership opportunities in the future.
We verify volunteer hours!
Requirements:
Must be 18 or under.
You are a native speaker or fluent in English (preferably at least C2 level). You do not have to speak Indonesian to apply!
You can commit 1-2 hours a week to meet with your buddy and prepare for meetings. Note that our learners know general vocabulary and can hold a simple conversation, so you do not need to create a whole lesson plan or have had teaching experience; it's purely conversation-based unless you and your learner decide otherwise.
You must turn on your video camera during the session unless we give you permission otherwise.
How to join?
Fill out this Google form
We'll reach out to you for a short 10-minute interview.
You will be assigned a learner from our program based on preferences. This may take more than 1 week depending on how many new students we receive.
You will receive your learner's contact information. You are responsible for reaching out to them first and scheduling a meeting and platform (tips for this in our website linked here).
Meetings should be done 2x a week for 30 minutes each, OR 1x a week for 60 minutes.
You will hold weekly meetings to video chat and discuss topics that are interesting and engaging for both of you! Topics can be personal hobbies, news, and whatever you and your learner decide together.
For detailed information and FAQs, visit our website: https://sites.google.com/view/bye-bye-anxiety-english/volunteers
Check out our Instagram: @byebyeanxiety.id