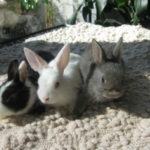 Website Bunny World Foundation
Volunteer participation is critical to the success of Bunny World Foundation. There are many ways to give as much or as little time as you want. Here are ways you can help by donating your time. To become a Bunny World Foundation volunteer, email us at info@bunnyworldfoundation.org.
Call LA Animal Control if you see illegal animals sold anywhere in the city.
Educate new Lucky Bunny parents.
Volunteer for adoption days at a local pet store.
Make home visits to check on adopted bunnies.
Foster a Lucky Bunny waiting for adoption.
Pick up and transport Lucky Bunnies.
Run errands such as picking up supplies.
Replenish hay/water and administer medication.
Clean Lucky Bunny cages.
Brush, pet and play with Lucky Bunnies.