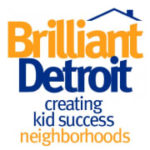 Website Brilliant Detriot
Brilliant Detroit and our partner BookNook are launching Remote Literacy Tutoring to serve students (Kindergarten-4th grade) during school closures due to COVID-19. The remote tutoring will use video conferencing and the BookNook digital literacy platform to provide time for students to connect with mentors and improve their literacy skills each week. Mentors lead students through pre-planned lessons that BookNook recommends based on students' skill level and areas of need.
We are looking for new mentors who can commit to meeting with a student for around 30-40 minutes twice a week. We have set time slots for student/guide pairs to meet on the days listed below. We are open to adding additional time slots if none of the ones below work for you, though this is dependent on student demand.
10am Mondays and Wednesdays
3pm Mondays and Wednesdays
10am Tuesdays and Thursdays
3pm Tuesdays and Thursdays
In order to participate in the program, you must have access to wifi and technology (see list of compatible devices below), attend a one hour training with a BookNook staff member and complete a background check. Training times are flexible; We will put you in touch directly with our colleague at BookNook to find a time that works well for you. You will also need a device that can use Zoom such as a computer (with a camera), tablet, or smartphone. In terms of timeline, we are hoping to fully launch the program in early May.
There are lots of devices that are compatible with BookNook, here's the list (phones are NOT compatible):
iPads(iOS 9.3+), Chromebooks (Chrome OS 54+), Android 4.4+, Mac (OS X 10+), PC (Windows 7+), Supported Fire Tablets: Kindle Fire HDX (2013 and 2014), Fire HD 8 and 10 (2015 – 2018)
You must be at least 15 years old to participate in this opportunity.
Don't hesitate to reach out with any questions you may have by emailing aperlman@brilliantdetroit.org and thank you for contributing to our mission of kid success.