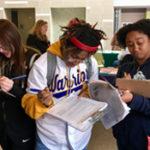 Website Breathe California Sacramento Region
We are looking for students ages 14-22 who love watching movies and have a passion for tobacco prevention!
Become a Thumbs Up! Thumbs Down! movie reviewer while we still have spots available. Reviewers receive training, attend one meeting per month, and get to see at least one movie a month for FREE, all while earning community service hours!
Qualifications:
Be between the ages of 14-22
Attend one initial 1-2 hour training session
Provide own transportation to and from TUTD meetings (usually held on the 2nd Monday of each month from 4pm-5pm at Breathe's downtown Sacramento office at 909 12th Street)
Have access to an email account
Represent the organization as a non-smoker
Responsibilities:
Carry out an analysis of tobacco depiction in movies:
Review movies for tobacco content and perceptions using the TUTD methodology
Attend and participate in monthly meetings held throughout each school year
Complete review sheets and provide movie tobacco summary by target date given
Promptly communicate with staff via email as necessary
Recruit friends, family, and classmates to participate in TUTD
Opportunities:
Raise awareness among young people about tobacco use in the media and inoculate your peers against pro-tobacco messages:
Share information learned through TUTD with friends, family, and classmates
When able, present TUTD information to other organizations and groups
Serve as spokespersons for TUTD and the organization (after receiving special training from staff)
Earn community service hours
Earn letters of recommendation for scholarships and college admission
Our next reviewer training/orientation meeting TBD
Training meetings are held at our downtown office located at 909 12th Street, Sacramento, 95814.
For more information about this project or our next training, contact Danielle Driscoll at ddriscoll@sacbreathe.org.