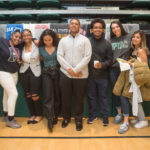 Website Breakthrough SF
What is Breakthrough San Francisco?
Breakthrough San Francisco is an educational non-profit that supports young people in San Francisco on the path to college and trains outstanding college students for education careers. We are looking for adults, college students, and high school students to volunteer in our after-school program with academically motivated 5th-8th grade students from underserved communities around San Francisco. All programming takes place at San Francisco Day School (350 Masonic Avenue at Golden Gate Avenue). All volunteers receive extensive training and ongoing support from Breakthrough's program staff. Our students are motivated, enthusiastic, visionary, and talented.
What will volunteers be doing?
We are looking for tutors/teachers to work with enthusiastic 5th-8th graders through our comprehensive, tuition-free after-school program that promotes academic excellence, youth leadership, and intellectual growth for students from underserved communities around San Francisco.
TUTORING:You will be matched with the same students — barring absences — each session, ensuring that you get to build relationships and learn how to support them best. Mondays and Wednesdays are mostly 5th and 6th grade students in smaller groups, while Tuesdays and Thursdays are mostly 7th and 8th grade students in larger groups.
TEACHING: Volunteers high school age and older who are interested in an additional leadership opportunity can apply to teach a class as well. After tutoring on Mon. and Wed., volunteers can teach a self-designed academic/elective class of 5-10 fifth and sixth grade students. Teachers must submit a lesson plan each week and are observed during each lesson. We may be offering elective opportunities on Tues. and Thurs. to 7/8 graders. Please note that the number of teaching positions is limited, and that those opting to teach are expected to spend time outside of Breakthrough preparing for their classes.
All volunteers will be required to attend a mandatory training on Wed. Oct. 2 from 5:00-8:00pm.