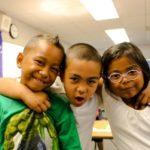 Website Boys and Girls Clubs of the Penninsula
EXPECTATIONS: Interns will work collaboratively with the BGCP Directors, credentialed teachers, and staff to implement a summer academic and enrichment program for elementary age youth. The program is designed to give students' academic enrichment activities to improve their school outcomes and their interest in learning. The internship will provide an opportunity to experience first-hand work with youth in an educational setting. This is a great role for someone who is considering education as a possible career.
INTERN ROLES:
Academic Youth Development InternVolunteer as a class assistant during academics and/or enrichment electives
Intern Responsibilities:

Assist in managing a class of 20 or fewer students with the assistance of BGCP staff and a credentialed teacher.
Designing and running engaging, hands-on enrichment activities.
Being innovative and open to learning and experimentation.
Helping to tailor the program to support the students' efforts and coordinate academic efforts regarding individual members.
Performing other administrative tasks as needed.

You will be placed at one of our two different summer programs:

East Palo Alto/Menlo Park

June 24th-July 19th (4 weeks)
Mandatory Training day/s TBD

Redwood City

June 17th-July 12th (4 weeks)
Mandatory Training day/s TBD

Schedule Commitment: We are seeking a commitment for all 4 weeks of the program and those who can commit to all 4 weeks will be considered for placement first

If you cannot commit to the full 4 weeks, you must be able to commit to 3 weeks in order to qualify for placement

Support summer program from 8am-4pm Monday-Friday (full day preferred, see below for half day options)
Morning shift is 8am-Noon
Afternoon shift is 1pm-4pm
LEAD INTERN:
Rewarding leadership opportunity available to select returning interns
Facilitate weekly intern lunch meetings
Facilitate team bonding activities for cohort
Support new interns
Serve as liaison between intern cohort & BGCP staff
REQUIREMENTS:

Must be a rising 9th-12th grade student
Have a desire and experience working with youth.
Conversational Spanish encouraged but not required.
Be adaptable and flexible to a changing workplace.
A positive attitude and mature personality conducive to working effectively as a team player with diverse youth, staff, volunteers, parents/guardians.