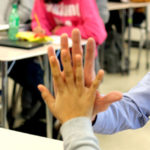 Website Berkeley Schools Volunteers
Change the world one classroom at a time through Berkeley Schools Volunteers (BSV), a program of the Berkeley Public Schools Fund.
In this new era of distanced learning, public school students need volunteer support NOW MORE THAN EVER!
BSV matches committed community members with teachers and staff in one of our 20 public schools – preschool through 12th grade, and the adult school. We build community-school partnerships that benefit student development and learning during this extraordinary time of challenge and isolation.
This year, our volunteers will be supporting distanced learning. We're looking for tech-comfortable adults who are adaptable and ready to learn a new landscape. (Training will be provided.)
Volunteers are typically paired with a classroom and teacher and serve in a variety of helpful capacities for a few hours each week for the duration of the school year. Our volunteer matching is extremely customized to teachers' needs and volunteers' skills and interests.
Learn more about the many opportunities that await you. From www.berkeleypublicschoolsfund.org, click on Volunteer and then Classroom Volunteers to learn more and apply.
You must be at least 16 years old.