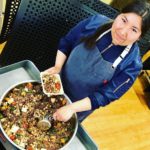 Website Berkeley Food Network
We work to reduce food insecurity and food waste in Berkeley.
Do you like to cook? Are you interested in helping solve two of Berkeley's big problems at once? The Berkeley Food Network Hub Kitchen Program is working hard to reduce hunger and food waste in Berkeley by collecting healthy edible food that would otherwise go into the landfill from Berkeley food businesses and turning that food into delicious individually package meals to be distributed to Berkeley residents experiencing hunger. If you have free time during the school day to volunteer, you can help us sort the food, turn it into meals in our Hub Kitchen, and pack it into individual containers to be distributed to seniors, working families, and homeless individuals. These meals are very popular among the people we serve.