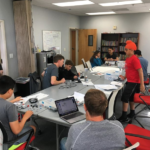 Website Bayshore Christian Ministries
Bayshore Christian Ministries needs photographers to capture images of special events and programs for promotions through social media, printed materials, BCM's website and others. This is a great opportunity to have fun and meet youth and volunteers in East Palo Alto and the Belle Haven neighborhood of Menlo Park. Hours are flexible, and most programs are after school.
The mission of BCM is to equip East-of-Bayshore youth to grow spiritually, gain life skills and develop as leaders so they have hope and a future.
REQUIREMENTS
– Must be at least 14
– This can be one-time or ongoing, 1-2 hrs each time