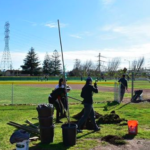 Website Our City Forest
We do fill to capacity closer to the event, so please be sure to contact us ahead of the event date if you would like to attend. Sending a registration email does not guarantee you a spot until you hear back from the volunteer coordinator.
Come help Our City Forest's community nursery transplant 1,600 trees! All of the trees, once established, will be planted in the San Jose area. There is no experience necessary, just a willingness to help out and have fun!
We currently only hosting 6 volunteers for each slot
Slot times are 9:00 am-12:00 pm & 1:00 pm-4:00 pm February 23rd-February 27th, March 2nd-March 6th, & March 9th-March 13th (more may be added later as the dates of this event can't be confirmed until further notice from the shipping company)
*It is recommended that you get a negative COVID-19 test result a couple of days before the event to make sure we are all doing our part in keeping our community safe & healthy.
Please let me know which dates you prefer and if you plan on bringing a group with the number of participants included. Family and friends are always welcome! I will send you a confirmation email once I receive your response. Feel free to share these dates with anyone else who might be interested in volunteering! If you have questions, please let me know and I will happily answer them!
If you are volunteering for this event please arrive 15 minutes before the start time. Bring water, snacks, and sun/rain protection! Wear clothes you don't mind getting dirty. Closed-toed shoes are required. This is a RAIN or SHINE event!
Thank you again for your willingness to help out. Our City Forest greatly appreciates it!