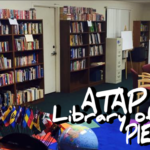 Website ATAP FAMILY SERVICES
ATAP Family Services builds lives: educationally, economically and socially; its our passion. All of our services are provided onsite in affordable housing communities in what we call the "Community Center".
We are currently enhancing our libraries and seeking to add books and bookshelves to offer to our residents. Would you like to help us by donating these items to benefit youth, adults, seniors and families in our communities? We and our residents would be so very grateful for your contributions.
If you'd like to donate these items, please let us know by email us at: programs@atap-us.org. Someone from our Administrative Team will connect you to our onsite staff assigned to one of our communities.
Thank you, in advance for your generosity!