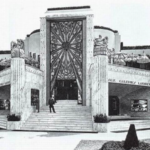 Website Art Deco Society of Los Angeles
The Art Deco Society of Los Angeles is seeking volunteers of all ages who love Los Angeles history and want to help preserve it. We need people to join our team to help this all-volunteer organization thrive. If you love historic architecture or 1920s to 1940s vintage style, art and design, then we want to meet you!
What we do: We write historic cultural nominations to landmark buildings. We put on dances and other vintage cultural events to raise money to fund the preservation of Art Deco architecture.
What you can do: Assist in creating opportunities to share knowledge of Art Deco with the public, learn to lead walking tours of Art Deco Los Angeles, Assist with our written and media-oriented communications, take photos/video at our events, attend City Hall hearings on behalf of our historic preservation bids, help market and execute special events, give information and greet members at events.
You can give as much or as little time as you can.
Right now we have an exciting project which you can do from home.
Please read the text below and let us know if you are interested at adsla.volunteers@gmail.com for more detailed information.
Last week marked the 95 th anniversary of the opening of the six month Decorative Arts Exposition where the "moderne" style was exhibited for the first time. The United States declined the invitation to participate, claiming that they had nothing of interest to showcase!
We would like to share profiles on the artists and pavilions of the legendary expo, with our followers and we need your help!
We are seeking researchers and writers who can take on an artist, architect, furniture designer, brands, fashion designer, pavilion, etc. whose work was part of the Expo. Or, choose some other aspect of the Expo.
Your assignment will be to write and/or edit short histories and/or to locate the highest resolution photos possible to pair with the written histories. And we can also use people with photoshop skills who can enhance the photos to make them ready for social media.
If you are able to do all of those things yourself, GREAT! If not, please indicate which function you would like to take on!
You do not need to be a social media user yourself to participate . Your final text can be sent as a Word document or in the body of an email and photos can be sent by email or a large file sharing transfer. We will post to our social media.
Assignments:
When you write back to say you are interested in helping on the 1925 Expo project, please indicate what you would like to do:
History Research
Writer only (using research supplied by someone else)
Research and write my own blurb.
Editor (edit the work of a volunteer writer before it goes public)
Photo Sourcing and editing (as needed) You will also need to let us know where the photo came from on the internet – or maybe you have your own collection). Photos will need to be standard suggested size in dimensions and resolution for Facebook and Instagram.
I can do all 5 things myself!
We would love to hear from you!
Your ADSLA team.
REQUIREMENTS:
Must be at least 16
Variable & flexible.
passion for early 20th century history!