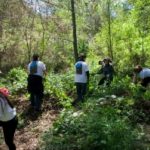 Website Arroyo Seco Foundation
Here's a great way to get involved in Los Angeles River protection and restoration efforts. Become an active part of the Arroyo Seco Stream Team.
The Arroyo Seco, a major watershed in Pasadena, La Canada, Altadena and Northeast Los Angeles, has received awards for a dynamic approach to watershed management and river restoration. We've even restored native fish to the stream near the Rose Bowl!
After training, Arroyo Seco Stream Team members can get involved in projects such as water quality sampling, mapping habitat, exotic pest plants and other stream conditions, cleanups of trash, debris and invasive plants, or working in our native plant nursery.
The Stream Team will also serve as watershed ambassadors, educating stakeholders and the general public about their watershed, a key tributary of the Los Angeles River, and how to be good stewards.
Cleanups
Watershed Assessment
Habitat Mapping
Exotic Pest Species Eradication
Water Quality Monitoring
Nursery Tending
Advocacy and Policy
The Arroyo Seco Stream Team meets once a month to discuss projects and activities. Members are expected to make a time commitment of at least 2 hours a month and to participate in and lead Stream Team activities. Activities take place in the Arroyo Seco, which extends from the Angeles National Forest in the San Gabriel Mountains through the communities of Pasadena, La Canada Flintridge, Altadena, South Pasadena and Northeast Los Angeles to downtown Los Angeles.