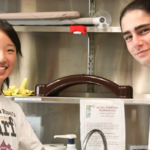 Website ARF Animal Rescue Foundation
There are a variety of roles available for teen volunteers in our program, including everything from helping in our Vet Clinic, assisting with our Education Programs such as our summer camps, working in our Boutique, as well as some opportunities to work directly with our animals. Once a teen is accepted into the program, they attend an orientation where they learn about all the specific opportunities and select which ones they'd like to pursue.
— An application is required.
— Volunteer credit is offered. Our program requires a minimum commitment of 6 months of volunteering, so we can sign off on and provide any volunteer hours once the minimum commitment is completed.