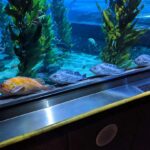 Website Aquarium of the Bay
Are you passionate about protecting our San Francisco Bay? Would you like a chance to interact with the public and engage visitors in marine science? Become a docent and make a difference in bay conservation!
Position Description:
Docents are volunteers that engage with guests by sharing knowledge of our local marine animals and habitats here in the San Francisco Bay to actively promote the conservation mission of Bayecotarium.org.
The Youth Docent Program connects teenagers (HS Sophomores to Seniors) to marine ecosystems and provides opportunities to learn about marine science and related careers from Science Engagement to Education and beyond.
Receive docent training and continuing education experiences in a team setting with a strong sense of community and mutual support within the Education team. Learn about our bay ecosystem, practice public speaking, work with people and animals, and best of all, get behind-the-scenes access to The Aquarium of the Bay! Opportunities to join regular shifts are available most days of the week.