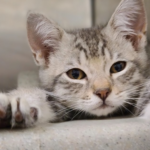 Antioch Animal Services
Thank you for your interest in giving your time on behalf of Antioch animals! Our goal of promoting animal welfare and adoptions, as well as caring for our shelter animals, could not be accomplished without our generous volunteers! The gift of your time extends our resources and provides the human power necessary to support the people and animals in our community.
What do volunteers do?
There are many areas where volunteers help. Volunteers may walk dogs, socialize them and prepare them for adoption so they are ready when that special human comes to see them. Volunteers cuddle and play with cats to help calm them. Besides playing with animals, there are many other areas volunteers help with:
Animal Care
Laundry
Washing Dishes
Processing Donations
Customer Service
Mobile Adoption Events
Community/Feral Cats
Cleaning
What is required to volunteer?
Must be at least 16 years of age with parental/guardian consent if under 18.
Antioch Animal Services asks for a minimum commitment of 2 hours a week for six months.
Prior to joining, you must attend an orientation.
Antioch Animal Services is able to accommodate short-term community service volunteers on a case by case basis. If you need to complete community service, please email gharding@ci.antioch.ca.us for more information.
Prior animal handling experience is not required