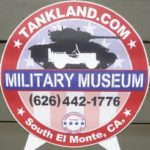 Website American Military Museum
Need High School, College, or University Credit? This is perfect for you!
This opportunity is pretty open to any ideas and in any way you would like to donate your time. Whether it be helping on current projects or even starting your own. You can even be trained to do either of the opportunities we have listed or suggest a new opportunity with the curator specifically for you.
We need help in all areas of the museum. Whether it be in the agricultural aspect surrounding the museum (raking leaves, planting, taking out weeds), or with the technological side of the museum (websites, Facebook, events, or updating outdated documents), or helping out with simple mechanical/creative work that we'd be more than happy to train you on. An example of mechanical or creative work would be helping sand historic military vehicles to get them ready for primer and paint or making new signs for the museum.
The museum needs help in the office in particular. Those who are good with Microsoft Word and like typing, this is a great volunteer job for you! We constantly need our websites updated and official office documents up to date as well. These official documents include volunteer agreements, film agreements, museum property rules, court-ordered volunteer agreements, and etc. We just need someone to overlook existing documents to make sure there are no typos, they are written clearly, and up to date.
We also need volunteers who are willing to help with grant writing to acquire donors to keep the museum alive and able to fund the projects we do. We have been a non-profit organization since 1965, so we need all the help we can get. The more volunteers we have, the more projects we will be able to start and complete.
Although this is a lot of information, it gives you an idea of what our weekly volunteers do. Contact us and we will set up something for you to do at our unique place! We'd love to have you.
REQUIREMENTS:
Must be at least 16