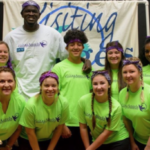 Website Alzhiemer's Association of Northern CA and Northern NV
We need your help to end Alzheimer's. The Alzheimer's Association of Northern California and Northern Nevada is looking for volunteers to help us with our newest national signature event, The Longest Day. You are invited to join The Longest Day Volunteer Committee where you will play a vital role in team recruitment and cultivation, as well as marketing and promoting the event throughout our chapter territory.
The Longest Day is all about love. Love for all those affected by Alzheimer's disease. Between now and Friday, June 21, 2019, people across the world will do what they love, to honor those they love with Alzheimer's. Join us in doing what you love to fight Alzheimer's. Together, we will raise funds and awareness for the care, support and research efforts of the Alzheimer's Association.