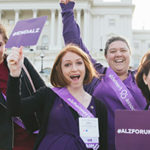 Website SanDiegoAlz Alzheimer's Association®
*Digital and in-person opportunity*
This opportunity is for creatives who can cultivate deep, one-on-one relationships with their members of Congress and other local elected officials. Whether it be dropping by District Offices to discuss Alzheimer's support and care, having coffee/zoom meetings with key policy makers, or simply picking up the phone or writing letters to garner awareness and support – Advocacy Volunteers play a key role in fighting for those living with Alzheimer's.
Advocates also enjoy a weekly Zoom Social Hour where people like you across the Southern California have a chance to just chat and build community.
No experience needed, just passionate volunteers ready to make a difference! Association Public Policy staff stands ready to train and support our Advocates.
Please follow this link to begin the process. https://alzimpact.org/volunteer/
or
Email me, Josh Bohannan @ jdbohannan@alz.org
Opportunities to advocate at the State Capitol and Washington D.C. with Public Policy Staff are also available.