Anywhere
October 31, 2020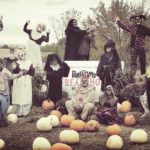 Agua Hedionda Lagoon Foundation
We are looking for volunteers to participate in our haunted corn maze at the Carlsbad Strawberry Company in Carlsbad. Outfits and costumes provided. Light food and snacks at the end. Flexible schedule. Choose one night, choose two nights, or help us at all!
Every Friday and Saturday Night in October (2nd – 31 st) the Corn Maze becomes haunted, where live people put on costumes and jump out and scare patrons.
16 and older encouraged. Last year we did have entire families participate with kids as young as 12 – but they MUST be responsible and supervised. It's a fun time with a group, as you scare people together coming through!
All volunteer must be responsible and always in character.
Covid-19 safety precautions: Each volunteer will be given their own haunted mask each night, as well as medical cloth mask. You will be temperature checked upon arrival. You may choose to wear your own scary Halloween costume if you'd like. The Corn Maze is entirely outdoors, volunteers are not permitted to touch guests (and visa versa). Each volunteer will be spaced 6 feet apart (at least). Each guest will enter alone or with their immediate family/group only. There will be no large groups (at this time).
Each volunteer will be required to sign a waiver each night. We will record where you are placed, as to be able to trace who you interact with (other volunteers). If you are under 18, your parent/guardian will need to sign the waiver, and can be sent ahead of time, or check in with you.
Because of the extra precautions in place, we suggest volunteers arrive early (before 6pm), so we can be sure to temperature scan, sign a waiver, get into costume and placed all before 7pm.
At this time, we will be collecting interested names only. In your email, please state your name, email, phone number, age, and if there are any specific dates wanted. You must be available the entire time: 6pm – 10:45pm. As the date gets closer we will send more specific details.