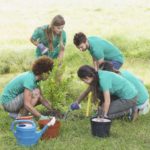 Agua Hedionda Lagoon Foundation
Scope of Work: Weeding, moving mulch, trimming back overgrowth
We are in need of volunteers to constantly help us upkeep our native gardens. This includes removing weeds and overgrowth, trimming, moving mulch cover etc. No Landscaping experience required, just people who like to be outdoors and are in need of hours, or looking to give back. We provide all the tools.
What to Wear: Clothes you don't mind getting dirty, long pants, hat, sunscreen (we have some too), re-usable water bottle, boots if you have them
Perks: Community Service Hours, LOA, t-shirts (pending sizes, no guarantee).