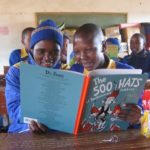 Website African Library Project
To start a library in Africa, fill out the form linked to the "Inquire to volunteer" button. Once you've been approved, you will need to collect 1,000 books and raise $500 for shipping costs.
The African Library Project changes lives book by book by starting libraries in Africa. Our grassroots approach mobilizes volunteers, young and old, in the United States and Canada to organize book drives and help establish small libraries in rural African communities. Our method makes a concrete and personal difference for children and communities on both continents.