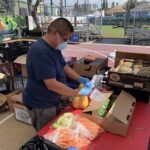 Website A Place Called Home
A Place Called Home (APCH) Meal Delivery and "Family Resource Depot" Overview: A Place Called Home has served South Central youth and families with its life-changing programs for more than 27 years. During these uncertain times, one thing is for sure: APCH is still here, resolved to serve our community in the midst of this crisis and beyond. In the face of the coronavirus emergency, APCH quickly mobilized to respond to urgent and ongoing needs of youth and families that were already struggling with poverty.
Since temporarily suspending regular operations on our campus, we launched (in addition to virtual programming, tutoring and mental health counseling): The APCH Family Resource Depot (or FRD — https://apch.org/#fp_frd) to deliver groceries, pre-packaged meals, household necessities and more to local families in need. Our FRD initiative provides hundreds of families with thousands of pounds of fresh produce, hundreds of to-go meals and other essentials weekly.
This is where our wonderful APCH volunteers come in!
Project Description: This project takes place on campus at A Place Called Home. Volunteers bag prepared and packaged to-go meals that APCH delivers to our families via the following day's Family Resource Depot distribution. The APCH team guides volunteers throughout the project. This project includes standing and movement. The project does not require specific food prep experience/skills.
Project Dates/Times:
09/15/20: 12:45 PM – 4:45 PM
09/22/20: 12:45 PM – 4:45 PM
09/29/20: 12:45 PM – 4:45 PM
10/06/20: 12:45 PM – 4:45 PM
10/13/20: 12:45 PM – 4:45 PM
10/20/20: 12:45 PM – 4:45 PM
10/27/20: 12:45 PM – 4:45 PM
11/03/20: 12:45 PM – 4:45 PM
11/10/20: 12:45 PM – 4:45 PM
11/17/20: 12:45 PM – 4:45 PM
11/24/20: 12:45 PM – 4:45 PM
12/01/20: 12:45 PM – 4:45 PM
12/08/20: 12:45 PM – 4:45 PM
12/15/20: 12:45 PM – 4:45 PM
12/22/20: 12:45 PM – 4:45 PM
Special Notes & COVID-19 Information:
Volunteers must be 10 years or older; volunteers younger than 18 must be accompanied by a parent/guardian
All volunteers must complete a volunteer waiver (provided to volunteers upon confirmation for this project) prior to volunteering at APCH
Project may include extended periods of standing
APCH has implemented workplace safety guidelines (provided to volunteers upon confirmation for this project), which are aligned with health and safety best practices for APCH staff, volunteers and visitors
APCH staff will conduct symptoms questioning with individuals prior to their volunteer day and upon their arrival to the APCH campus. These questions will review:if the individual — or anyone with whom the individual has been in close contact — has tested positive for COVID-19 within the past 14 days, or has experienced symptoms commonly associated with COVID-19 (fever, cough, shortness of breath or difficulty breathing, unexplained fatigue or muscle/body aches, etc.) within the past 14 days
if the individual has traveled outside of the state of CA within the past 14 days