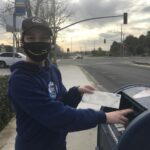 Website A Loving Link
To support residents in nursing facilities
A Loving Link (a subsection of SOL Collaborative 501c3) is in partnership with many nursing homes to create Penpal systems between residents at local Nursing Homes and high school students. Our mission is to support residents in nursing facilities who may be in need of social interactions. Encompassing different experiences and backgrounds, we reach across generations through letters to provide accessible, free, but valuable company to the elderly wherever they are. We seek to take advantage of today's digital world to promote social interactions and contribute to a world where individuals don't feel alone. This is much more important now more than ever during Covid-19. It is a necessity to protect the wellbeing of our nursing residents and through this program we strive to make a difference. This is also a great opportunity to gain community service hours virtually and join a community of over 240 volunteers from other high schools.
Many residents in the nursing homes feel lonely and isolated, especially in light of the COVID-19 pandemic.
BUT you could still make a difference in their life by helping them in their time of need and by giving them a friend that they could cherish.
Penpal Program:
The PenPal program will entail a weekly activity where the volunteers and residents would write to each other about current news, interesting facts, jokes, entertainment recommendations, a little about what's going on in their life, and maybe a question or two in a letter to the resident, similar to a pen pal system. Also, we plan to have the same volunteer be matched up with the same resident until they graduate so they could follow along with them throughout their high school experience. If the resident is unable to write back for any reasons such as health issues, then the volunteer would continue to write to the resident in a one-way penpal system where the resident does not write back to the volunteer. If you are interested in writing uplifting letters to residents, telling stories and more then this is the program for you!
If you desire, you can also write to multiple recipients for more community service hours.
Outreach Team:
The Outreach team is tasked with the business-end of our organization. There are two groups that are in the Outreach Team: Media Platform team and Partnership Group. The Partnership group entails reaching out to nursing homes and other schools to partner with. This team's purpose is to expand the organization and incorporate new facilities into partnerships through professionally emailing and calling. The Media Platform team controls our website and social media platforms. Through here, volunteers are able to leverage their social media prowess to help our organization be more interactive and transparent. If you are interested in business or you'd like to help our organization grow and see our service provided to more residents in nursing homes I recommend joining this team!
Data Management Team:
The Data Management team is in charge of calculating hours for the volunteers at A Loving Link. Occasionally, there will be other tasks the attendance members have to do which include updating information of the volunteers. As part of this team, you'll also be in charge of calculating your own hours. For this team, you'll have to spend about an hour each week updating hours. If you are good with spreadsheets and are able to manage large sets of data, this is the team for you!
Reading Team:
The reading team manages letters sent back and forth from the penpal writers to the nursing home residents. Every week, penpal writers send a photo of their letter to the reading team gmail, and the readers look over and approve/reject them so the writers can mail it to their designated nursing home. As easy as it sounds, our readers hold an esteemed role in keeping our program afloat by maintaining the quality of the letters, preventing any future issues, and working towards making A Loving Link the best it could be!
State Director:
We also have a state director position open as well in most states, although the application for this position is not on this website.
State Director – The State Director will be in charge of leading the state chapter and be the representative of the state in the organization. They will have access to all documents having to do with their state and must be knowledgeable of the inner workings of the organization. They will have the most senior position in A Loving Link for their particular state and have complete authority over the state chapter's ventures unless intervention from national officials prohibits it. They will also be in direct contact with the president of the organization who will check on them regularly for updates and reports. Those that want to apply to this position must have leadership skills, be strict, decisive, assertive, and very creative/entrepreneurial. Although there will be teams for the administrative parts of the organization, you will be an integral part in making sure that the program runs smoothly and also act as the bridge between all the teams. Most of your time will be spent thinking about ways to expand the organization and implementing those ideas with the supervisors, while also making sure that the current operations of the organization are well. If you are a strong, stern leader and have the ability to manage large numbers of groups and tasks, this is the position for you!
If you would like to become a state director or volunteer, please email alovinglink@gmail.com