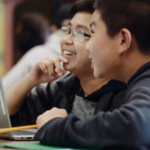 Website 826 Valencia
Youth Volunteers work to tutor younger students on homework and writing projects during our after-school programs. We are currently seeking Youth Volunteers who are able to commit to supporting our programs at least once per week (same day each week) for the course of a semester or longer.
SKILLS REQUIRED: Experience working with younger students and Spanish language skills are a plus!
Youth Volunteers who are over 18 will need to submit proof of a negative TB test and undergo a Live Scan background check in order to work with students.