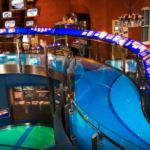 Website Walt Disney Family Museum
Being a volunteer at The Walt Disney Family Museum is a fun and rewarding experience. As a volunteer you will be helping to ensure every guest visiting the museum feels inspired, educated and entertained.
Volunteers support the museum in so many wonderful ways, from assisting in the galleries, to helping out at our public programs and membership events, interacting with visitors in the Learning Center, ensuring our exhibition openings and special event nights go smoothly, facilitating the important work of our education programs, working with special projects, being ambassadors for the museum at off-site events.
Your Welcome to Volunteering will include orientation and training, and when you begin volunteering, you'll be part of a dedicated team of other volunteers and staff. You'll have many opportunities to add to your understanding of Walt and his remarkable life story and achievements, access specialized instruction and training, and enjoy engaging with and assisting visitors from all over the world.
As your relationship with the museum continues and develops, you can explore all the different ways in which your support as a volunteer is vital to our ongoing success.
You must be at least 16 years old.
Please contact inquiry-volunteers@wdfmuseum.org for more details or inquiries