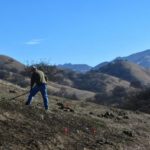 Website Walnut Creek Open Space Foundation
We will be removing non-native mustard plants from wild areas adjcent to our currently restored areas. This is hand work with hand tools — shovels and picks. Some of it may be accomplished by pulling only.
We will provide tools. Volunteers should wear long pants and sturdy shoes. This is a wild space with tall weeds. Snakes and ticks are occasionally observed. Bring gloves, sunscreen and hat, There is water available on site, but no bathrooms. We will be working in a level area close to a fire road.
We meet every other Saturday from 9-noon.
If you would like to bring a large group, please write and ask.