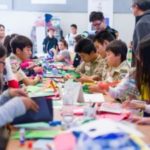 Website Sunday Friends Foundation
Individuals and Families have the option to volunteer at programs in downtown San Jose on the 2nd, 3rd and/or 4th Sundays to join families in need working towards building self-sufficiency while giving back to the community.
All volunteers must complete the New Volunteer Orientation and submit your application on our website before volunteering for your first time. Parents of volunteers under 18 must also submit a Parent Permission Form. Also, read more about volunteering as a family.