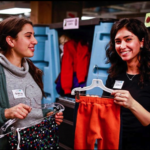 Website St. Anthony Foundation
St. Anthony's (FCP) is San Francisco's largest free clothing program serving both individuals and families. We provide warm clothes, interview or employment apparel, and children's clothing to homeless and low-income families and individuals. The Free Clothing Program serves approximately 125 guests a day in three services: Men's Service, Women's Service, and Family Service. It is our goal to distribute the highest quality of clothing possible to ensure that our guests have a positive and dignified shopping experience.
The Donation Processing Lead is part of a core volunteer group that serves as a role model for other Free Clothing Program volunteers. He/she will volunteer in all processing stations (sorting, sizing, hanging, etc.) and is seen as a resource for other volunteers to learn from. They help answer sorting-related questions, maintain effective sorting processes, and ultimately ensure our guests have access to the highest quality of clothing possible.
Duties & Tasks:
Assist with the processing of donations per FCP guidelines and standards.
Sort donations by clothing type and select highest quality clothing for distribution to guests.
Hang, size, steam, and prepare clothing for distribution.
Lead clothing processing stations and serve as a resource for other volunteers.
Support a team setting with a fun but efficient donation sorting environment.
Skills Required:
Excellent interpersonal, listening, and oral and written communication skills.
Excellent volunteer habits: professional, punctual, reliable, cooperative and team oriented.
Ability to successfully volunteer with a diverse client population including people who are homeless and/or low-income, and people with physical and/or mental health disabilities.
Ability to motivate a team to accomplish a shared goal.
Ability to lift 20 lbs.
Commitment to St. Anthony Foundation Statement of Values.
Please note that this opportunity is for individual volunteers only. If you would like to organize a group volunteer event, please email GroupVolunteer@stanthonysf.org. Thanks!
Required 15 years or older to volunteer.