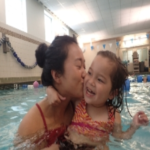 Website Special Needs Aquatic Program (SNAP) Palo Alto
The Special Needs Aquatic Program (SNAPkids.org) is a community based aquatic program for children with special gifts and needs. SNAP is a lot of fun and makes a difference for all the swimmers we work with. Our special swimmers rely on our volunteer helpers to create the magic each week. We provide training and guidance. You must be a capable swimmer. We hope you'll consider helping out! : )
Our special swimmers have physical and/or developmental challenges such as cerebral palsy and autism. Our talented helpers will work directly with our special swimmers each week. You will be paired with a swimmer and likely another helper to create fun activities to meet the needs of our swimmers. Training is provided. Your creativity, good energy, and fun are all welcome! We hope that you build a special relationship with your swimmer as SNAPkids is often a highlight of the week for our swimmers and volunteers.
We start up for the fall at the end of September and hold fall, winter, and spring quarters following the Stanford calendar. The hours are Fridays 4:15-6:00. We plan to add a class from 6:00-6:45 which can be additional time for you or the only class if that works better for your schedule.
You must be at least 15 years old, a capable swimmer, enjoy children, have a good sense of humor, and a playful nature. As our swimmers do better with consistency we give preference to volunteers who can commit to more than one quarter. Our volunteers span the lifespan – it's great fun for all! : )
See you in the water!