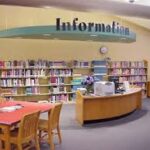 Website Solano County Library
There are many benefits to volunteering at the library!
gain work experience for future jobs
show community involvement for college and scholarship applications
fulfill your school's community service requirements
meet new people
contribute to your community
Teen Volunteers do a variety of jobs at the library, including helping to prepare crafts, creating book displays, typing book reviews, and other interesting projects for the library.  They also have great ideas, and they may assist the Teen Librarian by suggesting new materials, and brainstorming ideas for teen events.
Here's how to get involved:
Check with the Young Adult Librarian at the branch to see if there are volunteer positions available.
Teen Volunteers need to be at least 12 years old and must complete a special application form.
When we receive your application the teen librarian will set up an interview with you.
Please be willing to work shifts of 1-2 hours per week for at least 3-6 months.
Schedules are worked out on an individual basis and may be worked around vacations and other commitments.
For more information contact your teen librarian at your local library.
*inquire to volunteer for forms