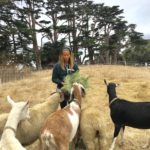 Website Slide Ranch
The contribution volunteers make at Slide Ranch truly helps us deliver our mission. Whether you're a student fulfilling community service hours, a corporate and community group looking for team-building, or someone who wants to put your green thumb to good use, Slide Ranch provides challenging, engaging and meaningful experiences.
Slide Ranch welcomes the participation of all volunteers, aged 14 and older. All minors need a waiver signed by their parents or legal guardians. We have set times and days for individuals to volunteer, and groups are scheduled on a case by case basis. Volunteers may also be able to schedule a one-time visit, or volunteer on a regular basis as part of an ongoing project.
Please wear layered clothing that you don't mind getting dirty, and closed toed shoes. Volunteer Days are held RAIN OR SHINE, so dress accordingly! Remember to bring a water bottle to stay hydrated. Feel free to bring snacks or a lunch for a picnic afterwards.
You will work under the supervision of trained staff at our teaching farm and 134 acres of wild lands, contributing to Slide Ranch in a variety of ways:
Gardening – weeding, pruning, prepping garden beds, planting and pest control, composting, restoring native plants and removing invasive plants, and maintaining trails and beach access, etc.
Farm & Facilities – fixing fences, mucking out animal barns, building repairs, painting, etc.
Office work – technology support, mailings, fundraising calls, social media, photography, filing, research, etc.
Events – help with set-up and take-down, check-in, food service, clean-up, parking, etc.
Please call the Slide Ranch office at 415.381.6155 or email admin@slideranch.org for more information and scheduling.