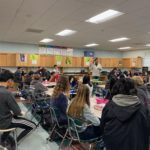 Website Science Speaks
We are looking for individuals who are willing to start a chapter of Science Speaks in their school or city. Science Speaks is an organization that aims to encourage individuals to pursue higher education in science careers by providing opportunities to interact with scientists in the community. As a chapter president, you will be responsible for finding a meeting place (virtually, in-person, or both) for your chapter to meet. You will also, with the help of Science Speaks, find speakers to reach out to to speak. This is a fun and rewarding process as you will be able to connect with others from around the world and have opportunities for internships, letter of recommendations, finding mentors, and more!
If you would like to become a member instead, please visit our website and sign up. Thank you!