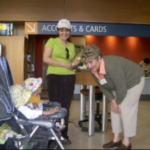 San Mateo Public Library
The San Mateo MAIN Library is seeking several volunteers to become Library Welcome Greeters. Greeters (Age 14+) create a welcoming atmosphere by greeting library patrons, assisting with directional information and helping patrons utilize the Library's technologies in the lobby area.
Responsibilities:
Greet patrons
Be the "face" of the San Mateo Public Library
Provide high quality customer service
Assist patrons locating items on the holds shelf
Assist with directions
Assist with self-check, book return, and Wayfinding systems
Work on other projects as needed.
Requirements
Must be at least 14
Orientation or Training