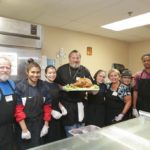 Website San Diego Rescue Mission
Our volunteers provide valuable services to our students of Mission Academy and guests of Nueva Vida Haven. Whether serving a meal, assisting in the computer lab, organizing in-kind donations, or discipling students, each volunteer is a special part of the Rescue Mission Team. In return, they receive the satisfaction of knowing they are personally helping those experiencing homelessness create positive, lasting change in their lives.
Serve a meal to the men, women and children experiencing homelessness first thing in the morning. Breakfast is from 5:15-6:30AM, and there's no better way to start the day than by serving!
Requirements: