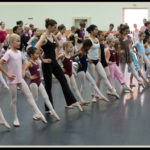 San Diego Civic Youth Ballet
Volunteering with SDCYB is an essential link between our community and programming. As our organization continues to grow and thrive, volunteer and financial support increase the opportunity for our programs to further our mission to enrich the cultural life of the community. If you are an SDCYB parent, a friend, or just a dance enthusiast we would like to invite you to join SDCYB.
Volunteering is open to everyone, and provides opportunities for a variety of time commitment levels and is not contingent on any financial investment, but rather on your enthusiasm, time and creative talents. We believe that shared cultural experiences contribute to sense of community and connection to one another, and we want to be part of this with you.
As a member of SDCYB, you will have various opportunities to support the growth and sustainability of the San Diego Civic Youth Ballet.
Requirements:
Must be at least 16
Orientation or Training
Offers virtual opportunities and on site