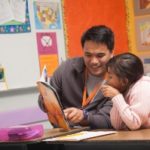 Website Reading Parners
Become a reading partner this Fall – make a lifelong impact on a child
Reading Partners is an education nonprofit that mobilizes community volunteers to provide one-on-one tutoring to struggling elementary student readers.
Reading Partners needs volunteers like you to provide individualized reading support to students in under-resourced elementary schools.
Reading is the foundation for all future learning. The ability to read transforms lives and empowers children to reach their full potential. Research shows that when students can read at grade level by fourth grade, they have a greater opportunity to succeed in school and beyond.
With your help, we can equip students with the foundational skills they need to read at grade level.
Each week, you will meet with your student for a one-on-one tutoring session to help them develop strong literacy skills and discover a passion for reading. We'll provide a structured curriculum, in-person training, and ongoing support to help your student thrive. Rigorous research has proven that Reading Partners significantly increases reading proficiency.
No teaching experience required and anyone over the age of 14 can volunteer. Session times are flexible: (Monday to Thursday, with volunteer times between 9 and 5). Please see our video below!