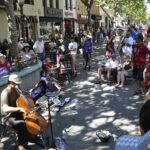 Website Palo Alto World Music Day
We need Program Information Distributors, Music Coordinators, Photographers and Videographers.
This is a beautiful and friendly outdoor event in Downtown Palo Alto.
Each shift is around 2 hrs You may sign up for 1, 2 or 3 shifts
2:30-4:30pm , 4:15-6:00pm , 5:45-7:45pm
You must be 14 or over to volunteer. Please contact us for more information.