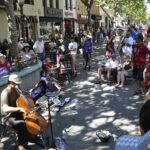 Website Palo Alto World Music Day
Palo Alto World Music Day is a music festival that takes place every year on Father's Day.  It will be celebrated for the 12th time in Palo Alto on Sunday June 21, 2020 from 3:00 pm to 7:30 pm, on University Avenue (CLOSED to traffic). The event is presented this year by our major sponsor, the Stanford Federal Credit Union.All performances are FREE and open to the public.50 professional and amateur musical groups will performed a variety of genres on street corners and plazas: jazz, blues, classical, pop, rock, klezmer, Greek, Balkan, Indian, World Music, choral, dance, etc. This is a fun and unique family event not to be missed!
Our festival needs the following volunteer positions fulfilled:
Musician Coordinators: welcome musicians; direct them to their assigned locations.  Keep an eye on public safety. Distribute programs. Occasionally poll the public on the event.
Volunteer Coordinators: stay at official event table on Lytton Plaza. Check volunteers in and out.  Direct them to their assigned locations. Operate as communications center.  Distribute programs.  Respond to questions from the public and musicians.
Program Distributors: distribute programs of the event to the public downtown.
Videographers: take digital video of highlights of the event.  Put them on YouTube.
Photographers: take digital pictures of the event to put on the web site.
Each shift is around 2 hrs You may sign up for 1, 2 or 3 shifts 2:30 – 4:30 PM , 4:15 – 6:00 PM, 5:45-7:45pm
You must be 14 or over to volunteer.
Questions? Email info@pamusicday.org