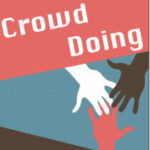 Website M4A FOUNDATION - CROWDDOING
Marketing Volunteer, CrowdDoing.world Next Generation, this title is for 15, 16, and 17 year olds. A parental waiver is required for participation. A slack channel and a google group have been established with oversight by an individual who recently completed her MBA in marketing.
CrowdDoing.world Marketing Video Editing Volunteer: Clips that need to be extracted to be targeted on social media such as youtube, instagram, facebook, twitter, as well as strategies for this clip. Our marketing team will review the clips and hashtagging strategies for our #systemschange content and other video clips from internal materials suitable for consideration for external communication.
CrowdDoing.world is a joint initiative between Reframe It, a social enterprise, and Match4Action Foundation, a US 501c3. CrowdDoing has had more than 1000 volunteers since 2015 collaborating on systemic change research and development through a venture lab approach. Venture labs build multiple solutions at the same time to address compelling problems in the world. Our volunteers are based in twenty countries and have collectively contributed hundreds of thousands of hours of collaboration time. CrowdDoing.world has initiatives that work on public health, anti-poverty, sustainability and education through virtual collaboration.
CrowdDoing.world is Recruiting NextGen Volunteers for Systemic Change Team in the following areas::Graphic design, video/audio production for your organization's podcasts. The average CrowdDoing volunteer contributes six hours per week but we are flexible with any individual volunteer to contribute at their convenience based on their level of interest.
Length of collaboration: We will seek to recruit volunteers who can stay with this for at least 10 weeks. Our preference is for volunteers who have an interest in our efforts and may consider staying longer on a flexible basis.
Match4Action : The M4A Foundation is charged with creating maximum social impact globally towards the resolution of the 17 Sustainable Development Goals as defined by the United Nations. M4A has partnered with Reframe It on the CrowdDoing program to address Sustainable Development Goals and beyond through social innovation, the social enterprise sector and systemic change
Match4Action connects those wanting to volunteer their skills with those in need for remote or local project support, advice, collaboration and mentoring.
CrowdDoing aims to leverage micro-leadership, service learning and massively multi-disciplinary collaboration supported with project managers and human resource business partners to collaborate with people whom you can learn from while changing the world virtually together.