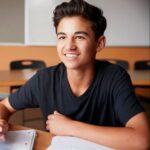 Website Loys Ayudantes
Our literacy volunteers will be tutoring from home in Zoom "breakout rooms" with students who are distance learning from home. ​ This mimics the small group, in-class sessions we have done in the past, but now, they're online!
One day a week is all that's needed to make a real difference in the lives of deserving RWC middle schoolers – but more than one day or period would be even better!   You will become an important, trusted adult in the students' lives when you make this commitment to tutor them throughout the year.
Tutoring Requirements:
No special foreign language skills are needed, but proficiency in English is required.
Training and orientation will be provided.
Background check and clean TB test required.
We ask that before volunteering, you make sure you can commit to tutoring for the entire school year (September through the end of May).
High School students 16 or over and college students may be able to tutor this year because we have moved online.  Typically it is difficult for students to volunteer because they are also in school at the same time as we are tutoring.  But this year, high school and college students may have more availability while they are distance learning to dedicate to our students the same time every week for a year.