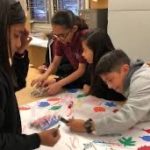 Website Los Angeles Team Mentoring
Our team-based mentoring model gives you the chance to impact the lives of 12-15 students with the support of another adult mentor. As a mentor you will work with our kids to complete the activities in the provided curriculum and discuss the valuable life lessons learned from the tasks. Examples of these activities include topics in career readiness, self-esteem and confidence building, maintaining healthy relationships, and resolving conflicts/ disagreements.
Oh, did we mention this is all done from the comfort of your home or office? All meetings with our kids will be done online through our mentor portal. All you need is a device with a camera and internet access! To receive a New Mentor Application – contact korellana@latm.org -or- pgonzalez@latm.org for an application!
Requirements:
Have an electronic device with a camera and internet access
Be 18 years or older
Pass a criminal background check
Provide two personal references
Complete a 1-hour online mentor orientation
Complete a 90 minute virtual mentor training
Adhere to all program policies and procedures