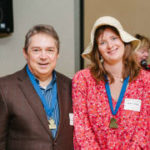 Website Lifehouse Inc.
We're looking for volunteers to help us at our biggest community event of the year. This event gives us the opportunity to honor dedicated staff and community supporters who have been instrumental in the continued success of our programs over the past year. We also celebrate all the personal achievements of the people we support. Welcoming over 350 guests, this evening's festivities will continue to celebrate 65 years of providing support services to individuals with developmental disabilities. The event will include a sit-down dinner, awards presentations, and dancing.
Volunteers must be at least 16.
Volunteer Needs:
Event Set-up and Decorations
Registration and Payments
Greeting and Ushering
Event Details
Location: Embassy Suites Hotel, San Rafael (101 McInnis Parkway)
Date and Time: Friday, October 25, 2019 at 6:00PM – 10:00PM
Volunteer Check-in Time: 5:00PM (check in time depends on your volunteer role)
Event Schedule
5:00PM Volunteer Check-in Begins and Event Set-up
5:45PM Registration is Open
6:00PM Dining Room Opens
6:30PM Dinner
7:00PM Awards Ceremony Begins
7:30PM Break-down Registration Area
8:30PM Dancing
10:00PM Farewell