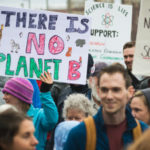 Website L.A. Works
WHAT: Don't just talk about change – make change. Attack global warming at the policy level by joining us biweekly to learn about an issue and then complete an advocacy skill that addresses it.
WHO: L.A. Works and environmental experts have come together to provide a virtual volunteer opportunity that arms you with the knowledge and tools to actively address issues facing our environment today, both locally and globally.
WHY: We're learning a lot right now about how humans (and their absence) affect the environment, so this may be critical time for environmental advocates. This opportunity will teach you how to be part of the solution.
The VOLUNTEER PROJECT: In this limited bi-weekly series, each session consists of (1) educational and (2) action.
(1) Education. Guest experts will speak on a critical issue related to the environment:
(6/27) Topic – Climate Change 101: Just the Basics.
Special guest speaker – Lowell Stott, Professor of Earth Sciences at USC
(7/11) Topic – How to get to Net Zero 2045: A look at options for negative carbon emissions in CA.
Special guest speaker – Sarah Saltzer, Managing Director of the Stanford Center for Carbon Storage and the Stanford Carbon Initiative
(7/25) Topic – California greenhouse emission goals and how to get there.
Special guest speakers – Walker Wells, Principal at Raimi + Associates/Lecturer UCLA and Sofia Ratcovich, climate activist and Founder of Zero Waste Company.
(8/8) Topic – We're all in this together: Global actions impacting climate change.
Special guest speaker – Craig Ebert, President of the Climate Action Reserve
(8/22) Topic – Policy is key: Current bills that could impact climate change.
Special guest speaker – Bill Magavern, Policy Director at Coalition for Clean Air
(9/5) Topic – Rethinking renewables: The role of biomethane, hydrogen and other energies in meeting CA's climate.
Special guest speakers – Sam Wade, Director of State Regulatory Affairs, Renewable Natural Gas Coalition and Julia Levin, Executive Director of Bioenergy Association of California
(9/19) Topic – Climate gap: the disproportionate impact of climate change on communities of color and low income communities
Special guest speaker – TBD
(2) Advocacy Action Completion. You will learn how to and finish an advocacy action such as:
A two-minute pitch/rap
Phone banking
Implementing a social media campaign
Writing op-eds
Organizing an awareness-raising dinner party (virtual or in person)
LOCATION: This opportunity takes place online. You will be emailed the Zoom link after signing up.
REQUIREMENTS:
Age Minimum (with Adult): 16+, Minimum Age:16+