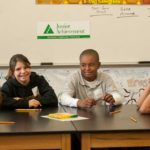 Website Junior Achievement of Northern California
A want versus a need. How to balance a checkbook. Don't you wish that someone had taught you those things as you were growing up? Now there is someone. YOU. All we need is your enthusiasm, life experience, and a willingness to teach children about how you took chances and shot for the stars. Junior Achievement provides the training, curriculum, and a classroom ready to meet you.
Are you interested in volunteering? Come by and find out more about various volunteer opportunities. We're having an informative event every Friday, 12pm-1pm so feel free to drop by.
Requirements:
Must be at least 16
Attend orientation/training