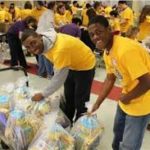 Jamboree Housing Corporation
Cornerstone is an affordable housing apartment community for families located in Santa Ana. Our Community Impact team will be providing welcome baskets for residents going through rehab and returning home. We are looking for volunteers to assist in assembling baskets on site.
COVID-19 Guidelines: Jamboree's top priority is to keep residents, volunteers, employees, and their families safe and healthy. Please be sure to bring and wear a face mask to your shift since supplies are limited. Make sure to take your temperature prior to coming to your shift. A fever is considered 100.4F/38C or higher. If you have a fever, are sick, or show signs of COVID-19, stay home and do not volunteer. Volunteers who are well but have been in the proximity of someone with COVID-19, or who is awaiting diagnosis may not volunteer.
Requirements:
Must be at least 16
Must complete event waiver