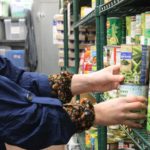 Interfaith Community Services
Organize, pack, and provide groceries from the emergency food pantry at Interfaith headquarters in Escondido for individuals and families currently food insecure.
Directly combat the COVID-19 pandemic by bagging a supply of groceries and hygiene products for adults and children currently food insecure because of the loss of employment and other crisis-related causes. By filling the orders placed in our emergency food pantry and stocking shelves with food, you will be nourishing people to help keep them safe during this unprecedented time.
• One shift per week or multiple shifts per week (weekdays only)
• Weekdays: 8:00 am to 12:00 pm (morning shift); 1:00 pm to 4:00 pm (afternoon shift)
IMPORTANT: Must be onboarded as a volunteer prior to being put on the schedule.
Key responsibilities: 
Arrive on time/per schedule, fill pantry orders, help stock shelves, provide the highest level of client care, receive and record donations.
Qualifications:  
Outgoing, friendly & helpful demeanor (team player)
Able to lift 25 lbs.