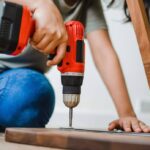 Website Heart of the Valley, SERVICES FOR SENIORS, Inc.
Are you a do–it–yourself person or someone who does repairs for a living? Our seniors live on a fixed income and cannot afford costly repair bills. Would you be willing to help them with small home repairs or handyman projects around their homes? They would provide any parts and some tools. You would provide other tools, if needed as well as your time and labor.
Your Responsibilities Would Include:
Assist seniors with small home repairs and handyman projects around their homes
Qualifications You Would Need Include:
Friendly and caring concern for seniors
Ability to make small repairs
Willing to complete reports on volunteer work
Supportive of HOV goals and services
Being dependable
Your Supervisor Would be:
HOV Executive Director
You must at least 14.