Anywhere
October 31, 2020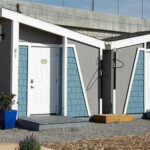 Website HabitatEBSV Habitat for Humanity East Bay/Silicon Valley
Help Habitat for Humanity as we build Emergency Sleeping Cabins as part of San Jose's Bridge Housing Communities project.
Join Habitat as we partner with the City of San Jose and HomeFirst Services to build Emergency Sleeping Cabins for local homeless residents. Bridge Housing Communities-Felipe site will provide an interim housing option that provides adult individuals with a safe, private and secure community to build their civic engagement and self-sufficiency skills while searching for permanent housing. Join us as we build innovative housing solutions!
Typical tasks include: boardwalk and deck building, fence building, landscaping, cabin finish work.
With masks on, hands washed, and at least 6 feet apart, Habitat has kept building. We hope you will join us on site to keep building shelter, home, and hope for your neighbors. Visit https://www.habitatebsv.org/health-and-safety for more information on our Volunteer Health & Safety guidelines.
For safety reasons, all volunteers must be at least 16 years old. Volunteers under 18 must bring a signed minor waiver form with them to the site. Minor waiver forms are available on our website at https://www.habitatebsv.org/hubfs/2020%20Minor%20Waiver%20-COVID%20Update.pdf .
No experience is necessary. Simply click 'Sign Up' for the date you want to volunteer, create a brief user profile, and reserve your spot.
Thank you for supporting Affordable Housing solutions in the Bay Area!