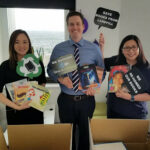 Website GAT Foundation
The GAT Foundation are a small Melbourne based, not-for-profit organisation that actively distributes books throughout the Philippines. Their main objectives are:
We promote sustainability and environmental awareness through re-homing books within communities in Australia and the Philippines.
The donate literacy material to schools and communities in the Philippines to empower individuals and help to relieve poverty through education.
Partner with corporate organisations to assist with Corporate Social Responsibility (CSR) projects. To support their goals for social, environmental and educational outreach.
Projects can be tailored to your organisation and can assist with the following:
-Identify social responsibility goals
-Determining the beneficiary for your book donation – for example: elementary, high school, orphanage
-Creating a sustainable partnership for the benefit of empowering lives in communities